Shirin Johari
Current: Creative Consultant
Innovation. Design. Brand Building. Impact.

My creative practice sits at the intersection of brand building, design, innovation, and communication—one of my primary concerns being the responsibility to get involved in social, cultural and institutional change.

If you are someone who wants to create fresh work that can bring seismic change in a cultural landscape, I already love you. I work with organisations facing creative and communication challenges. And with creative thinkers who resonate with my vision.

I have spent the past 17 years in the field of advertising and social impact, brand building, product and graphic design and mixed-media communication. Along the way, I have received more than 40 national and international awards for my work, including a Cannes Design Gold and a grant from the Government of Chile. I have also co-founded an award-winning VC funded ed-tech start-up. At my last positions, I had the opportunity to serve as Creative Head, India at BookMyShow and at Aayu, a health-tech start up.


Advertising

From 2005 to 2015, I worked on domestic and global brands with international network agencies such as JWT, Ogilvy & Mather, Creativeland Asia, DDB Mudra and TBWA (as Creative Director) in their India offices. My work has won at The One Show, LIA, Asia Pacific, Spikes Asia, The Work, and Young Guns, and I was named The Young Achiever's Creative Person of the Year, 2008 (India). In 2013 I was featured as one of Impact magazine's 'Top 30-Under 30' media personalities of advertising and marketing in India. My work has also been featured in the Triennale Design Museum in Milan. It has also been an honour to be on two International Advertising and Design Juries – the ADC 95th Annual Award Jury, 2016 and the Young Guns Annual Awards, 2017.


Clap Global


A VC funded company



Clap Global is founded on the idea of 'Travellers in Classrooms' which I conceptualised in 2013 with the aim of creating a larger social and cultural impact through my work. To turn it into an automated platform to be harmonised into global education and tourism systems, I brought a business partner, Aarti Chhabria on board. Clap enables international travellers to visit local school classrooms and have eye-opening conversations with students through automated matching of available dates. One of the greatest joys along the way has been co-creating a 15-level school curriculum of 'Global Competence' with Shubhangi Swarup and to see its deep and transformative impact on children across more than 13 cities across India.

Clap Global is listed as one of the 'Top 20 Social Innovations Globally - 2017', by Social Enablers. It was awarded a seed fund by the Government of Chile in 2015, adjudged 'Start-Up of the Year' and 'Social Messiah of the Year' by Exhibit Magazine's '100 Hottest Start Ups 2016' National Award Jury and Pre-Series-A funded by RoundGlass Partners. The concept of 'Travellers in Classrooms' also received a warm and overwhelming response at a 2016 TEDx Talk I was invited to speak at in Mumbai.

In 2016, I also served as a Creative and Design Consultant for South Asia's first Virtual Reality journalism platform with Memesys – a cinema and new media studio at the intersection of science, philosophy and culture.


A few more things about me

I'm an avid backpacker, voracious reader, passionate about new cultures, world cinema and exploring the confluence of science and design. I meditate and practice Arhatic Yoga. I draw my energy from practicing pole fitness, gymnastics, scuba diving with my unconditional love for the oceans. One of my recent most transformational experiences has been swimming 8 days with the humpback whales in the Pacific wild.


I look forward to working with organisations and individuals who seek to create positive change and impact on scale through lateral thinking, innovation and design. Who believe in revolutionising and in shaping new cultural landscapes of society.



Brands I have worked on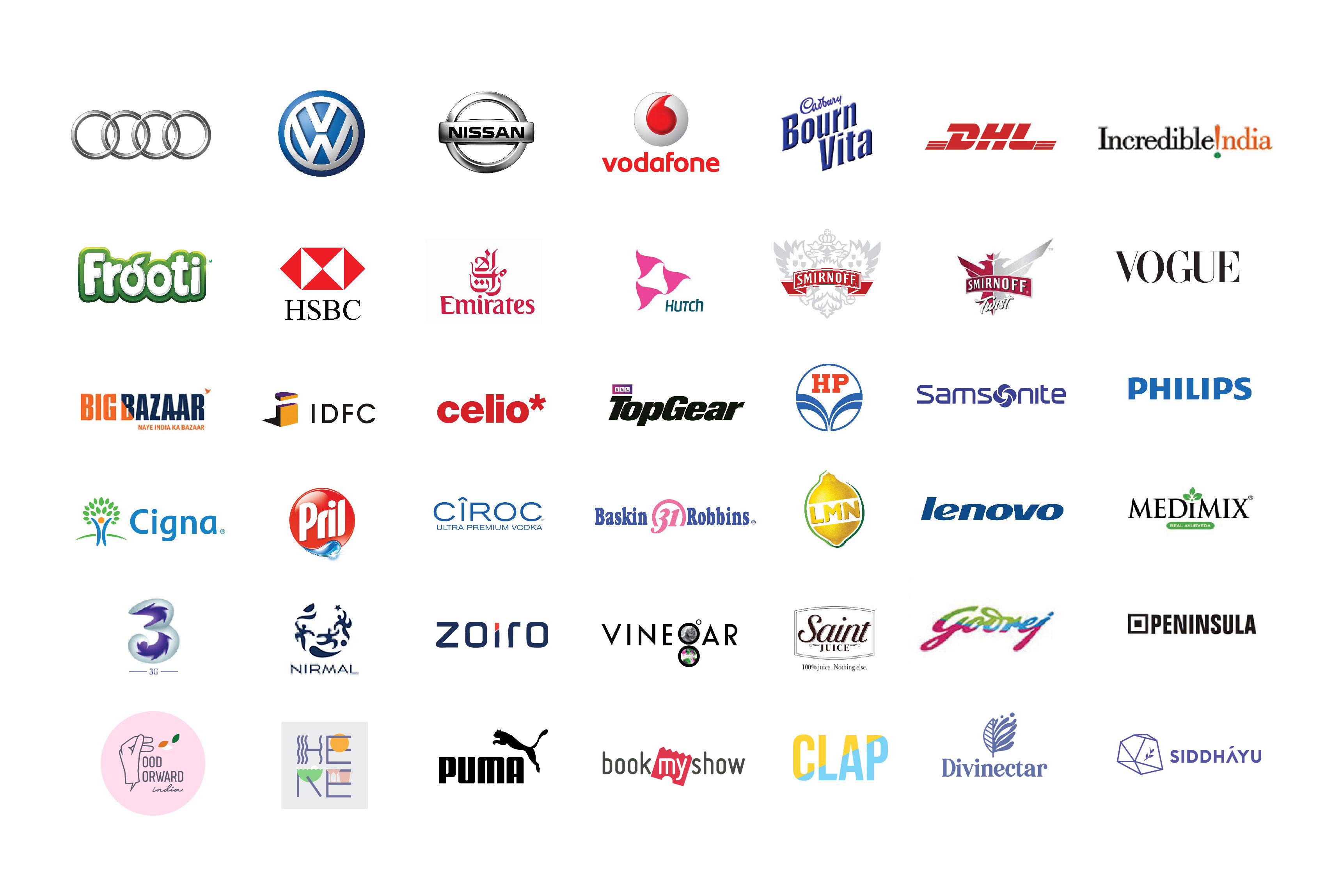 Awards and recognition





Current
Creative Consultant

Total Work Experience 17 years
Awards 40+



Categories


Telecom, FMCG, entertainment, cinema, automobile, food, beverages, travel, Tourism, education, social impact, logistics, fitness, health, health-tech, fashion, luxury, beauty, insurance, real estate, banking, finance, airlines, petroleum, hospitality, events, technology, OTT and publication.



As Creative Head, Aayu
Oct 2021 - Nov 2022
Aayu is a unique health app that that counters disease with yoga, science and awareness.
In my capacity as Creative Head:
• I lead the brand building, philosophy, creative strategy, design, UX UI and advertising campaigns across product and marketing.
• Built the brand from conception to Aayu's beta-test launch with its initial 110k+ users into its foundational growth phase.
• Structured and led a creative network of more than 20 fulltime and freelance professionals, across research, design, UX UI, social media, animation, music direction, sound design, writing, photography, film making and producing.
• Worked closely with the founder, executive leadership and other teams of doctors, integrated yoga therapists, scientists, molecular biologists, researchers, academicians, technology, operations & management.
As Creative Lead of BookMyShow, India
Nov 2020 - July 2021

• Structured an in-house agency model for India's largest entertainment platform.
• Built and lead the creative org for its national operations.
• Built an additional modular network of more than 30 writers, designers, animators, filmmakers, editors and music directors.
• Raised, transformed and created fresh benchmarks for:
• Experience design, innovation, campaigns & communication, films, social media and growth design.
• Worked closely with the founder and executive leadership towards creative strategy for brand revitalisation
and to define a long-term vision for BookMyShow.
• Worked actively with the Brand Alliances team to coalite in meaningful partnerships with brands across categories through innovation.

Projects handled across verticals :
Brand - Revitalisation, Brand Building and Campaigns
Stream - BookMyShow's new video-on-demand platform curating handpicked global cinema
All India Cinema Revival (Post-pandemic waves)
Live Events, Music Festivals and Theatre
Loyalty and Rewards
Apparel Product design - Towards the launch of an 'Originals' merchandise section
Sports - Matches and upcoming worldcups
Brand Alliances
BookASmile - BookMyShow's charity wing
As an Advertising Professional:

Creative Director / Consultant
April 2019 - June 2023
Working with clients in India and Thailand.

Brands handled:

Bawri India
Pan-India restaurant chain launch / by Masterchef Amninder Sandhu

Siddhayu
Ayurveda, health and wellness / Dentsu India

Food Forward India
Unique cullinary travelling not-for-profit org / by Michelin star chef Garima Arora

HERE
Diner Launch / Thailand / by Michelin star chef Garima Arora

Puma / Immrse
Product innovation, creative strategy, design, brand building / Education Technology

Divinectar
Ayurveda, beauty, health / Bombay Design Company

Pole Burnt
Art and Fitness

Entrepreneurship

Children of Type
Feb 2020 - present
Director and CCO

Clap Global
May 2015 - April 2019
Co-Founder and CCO
A VC funded company


(details further below)



TBWA
July 2013 - May 2015
Creative Director
Lead a team of 8 creatives - writers and art directors

Brands handled:
Celio
Vogue
Zoiro Denin
Nissan
Pril - Jyoti Laboratories
Peninsula
IDFC
Samsonite
Cigna TTK


DDB Mudra
Feb 2011 – June 2013
Associate Creative Director, Art

Brands handled:
Volkswagen
Incredible India
TopGear
Philips
Big Bazaar
Nirmal Lifestyle

Awards and Recognition
Cannes Gold 2012 : Integrated Campaign
Cannes Bronze 2012 - Design Typography
Triennale Design Museum, Milan, Italy : Showcase
Outdoor Advertising Awards Gold 2012
Out of Home Awards 2012 - Best Outdoor Creative
Out of Home Awards 2012 - Most Innovative use of OOH Media
Spikes Asia 2012 – Ambient, Stunts and Live Advertising
Media Abby Awards 2012
EMVIES 2012


Creativeland Asia Mumbai
Oct 2009 – January 2011
Creative Partner, Art

Brands handled:
Frooti
Medimix Handmade Herbal Soaps
Audi
Saint Juice
LMN - lemon drink

Awards
Cannes Silver 2010 – Outdoor, Stunts and Live Advertising
Cannes Bronze 2010 – Outdoor, Posters
Spikes Asia Silver 2010 – Best use of Media
London International Award Bronze 2010 – Best Use of Typography
Abby Awards Silver 2011 - Out of Home, Ambient : Juicy Mango Surprise Project
Abby Awards Bronze 2011 – Integrated
Abby Awards Silver 2011 - Film Campaign
One Show Merit 2011 – Typography


Ogilvy & Mather Mumbai
Feb 2006 - Sep 2009
Art Director

Brands handled:
Hutch
Hutch to Vodafone brand migration
Vodafone
Emirates
Cadbury's Bournvita
DHL
HSBC
Lenovo
Anand Rathi Financial Advisors
Galla Mango Nectar
3G

Awards
Young Guns Bronze 2007 – Direct Mailer
Asia Pacific Bronze 2007 – Direct Mailer
Young Achievers Awards 2008 - Creative Person of the Year
Cannes Finalist 2008 – Outdoor, Ambient
One Show Merit 2008 – Outdoor, Ambient
The Work 2008 - Outdoor, Ambient
LIA Merit 2008 - Outdoor, Ambient
Media Spikes Merit 2008 - Outdoor, Ambient
Young Guns Merit 2008 - Outdoor, Ambient
Abby Bronze 2008 - Outdoor, Ambient
Outdoor Advertising Awards Silver 2008 - Public and Social Service
Outdoor Advertising Awards Merit 2008 - Innovation of the year
Asia Pacific Finalist 2008 - Outdoor, Ambient
Red Hot Gold 2008
Abby Bronze 2009 - Outdoor, Stunts and Live Advertising


JWT Mumbai
July 2005 – Jan 2006
Internship

Brands handled:
Smirnoff
Smirnoff Twist
Baskin Robbins
HP (Hindustan Petroleum)
Godrej
Ciroc Vodka
EMS: Emergency Medical Service


Role & Responsibilities - Advertising:
· Gaining an in depth understanding of each category & brand by studying its unique challenges & opportunities
· Conceptualizing, developing and executing multimedia campaigns across traditional, digital & social media.
· Creating brand identity and establishing brand philosophy and visual language for new products and brand launches
· Collaborating with writers, filmmakers, photographers, animators and voice artists to come up with innovative marketing and branding solutions
· Working with dynamic teams in high-pressure environments and adapting to integrate geographies


Juries
ADC 95th Annual International Awards, 2016 - Jury Member
Young Guns International Award, 2017 - Jury Member


Personal Copyrights ©
The Hinglish Font- 2012
Children of Type - 2020



As a Start-up Entrepreneur
of a VC funded company

Clap Global - Travellers in Classrooms

Co-Founder and Chief Creative Officer:
May 2015 - April 2019

Advisor and Director:
April 2019 onwards

Team size: 25-30 people across technology, digital and on-ground operations, design, copywriting, management, social, legal, finance + specialist advisors and freelancers.

A unique, tech-enabled platform which allows international travellers to visit local school classrooms and have eye-opening conversations with students through automated matching of available dates.

Role and Responsibilities:
· Concept, Product innovation and development
· Strategy, design & overseeing the technology development
· Building the brand & developing a strategy for marketing & communication
· Creation of a 15-level school curriculum of global competence
· Qualitative research and impact assessment with children and teenagers in the age group of 3 -17 years
· Implementation and testing across 5 countries
· Working with education and tourism systems across 16 cities
· Recalibrating the company structure to adapt to new growth plans and company needs
Awards and Recognition

The Government of Chile awarded Clap Global a seed fund and incubation time with Start-Up Chile for which I spent 6 months working in Santiago, Chile between 2015-2016.

Invited to participate at the United Nations Sustainable Development Goals Festival of Action 2019 in Bonn, Germany.


Recognition of Excellence - SuperStartUps Asia Award 2019
Social Enablers - Top 100 Global Social Innovations, 2017
Clap Global was featured on the list at No.20 of the most compelling Social Innovations from around the world.


TEDx
'Classrooms, Bagpackers and a Revolution' - received an overwhelming response at TEDx, Mumbai Chapter, 2016.


Start up of the Year, 2016 - India
Social Messiah of the Year, 2016 - India
Adjudged by Exhibit Magazine's 100 Hottest Start Ups 2016 award Jury, comprising members from NASSCOM, Kalaari Capital, NEA and Matrix Partners.


Amnesty International
Amnesty partnered with Clap Global on the HRE (Human Rights Education) part of the Clap Curriculum ©, 2015-2016.


United Nations Youth Peace Ambasadors Network (YPAN) Council of Europe, Partnership 2017 onwards

Other Work Experience
Memesys Culture Lab
July 2016 - Nov 2016
Creative Consultant

Memesys is a cinema and new media studio at the intersection of science, philosophy and culture. The studio actively participates in cinema, literature, pedagogy, technology, art, scientific and philosophical research and actions of significant social impact.

During my time here, I had a special focus on ElseVR - their Mixed Reality channel, a disruptive idea in narrative nonfiction and journalism, bringing extraordinary and urgent stories to Virtual Reality (VR).

Cinematography
June2004 – May 2005
Trained and assisted on ad films and Feature films with DOPs Sameer Arya, Vishal Sinha, Dhimant Vyas, Ko Hung Chang and Gopal Shah, Ashok Mehta, Sameer Arya and Jai Natrajan.

Cartooning
The Free Press Journal
August2003 – April 2004
Created a weekly cartoon spot, called 'JUSTIFIED'

Assistant Direction
Film Farm Pvt. Ltd (Ad film and music video production house)
April 2003 – September 2003
Assistant director on music videos and ad films

Languages:
English
Hindi
Gujarati
Marathi
Spanish (Elementary)
German (Beginner)
Arabic (Script)

I swam with the humpback whales in Tonga Islands in the South Pacific wild in 2018
Talks

TEDx, Mumbai 2016 : Classrooms, Bagpackers and a Revolution
• ISDI Parsons School of Design and Innovation 2020 : There's a Hack for Cultivating Intuitive Intelligence
• Reliance Foundation Hospitals and Research Centre at SORC, Festival
of Orthopedics, 2019 :
The Anatomy of Intuition
• TEDx Unplugged, Mumbai 2019 :
The Trick to Cultivating Eureka Moments in your Career.
• Symbiosis University, as Chief Guest, Pune 2017
• Startup Chile, Santiago 2015
• Creative Beta Mornings, Mumbai 2013

I work with

Organisations and individuals who seek to create positive change and impact on scale through lateral thinking, innovation and design.
While creating enlightening, engaging and entertaining work.
And with those who believe in revolutionising and in shaping new cultural landscapes of society.



Other things I love
User Experience Design
Installation art
Urban planning
Design for public spaces
Product innovation
Film / cinema / video
XR, VR, AR
Behavioural Design
Circular economy
Oceans / environment
Scuba diving
Swimming with the whales in the wild
Pole Fitness and gymnastics
Bagpacking
World Cinema
The confluence of science and spirituality