The Hinglish Project


Awards: Cannes International Award Gold Lion, 2012 - Integrated Campaign and Cannes International Award Bronze Lion, 2012 - Design Typography
More than 5.7 million tourists visit India every year. They're faced with a million signs everywhere, most of which are in Hindi. The Hinglish Font demystifies it and has fun while doing so.
Through this unique fusion-font design, you can tell the phonetic sound of a Hindi character by looking at the corresponding Roman letter superimposed on it. Hindi is written in the Devanagri script, which has many more characters than the English alphabet.
This font, then, cannot teach you how to read words as they are spelt in Hindi, but its aim is to demystify individual letters in its script and make India more approachable.
Despite the superficial distinctiveness of English and Hindi, the two borrow from the same phonetic pool - they both belong to the Indo-European group of languages. This font design playfully highlights these commonalities. To quote a now-popular phrase, "We're same same, but different"!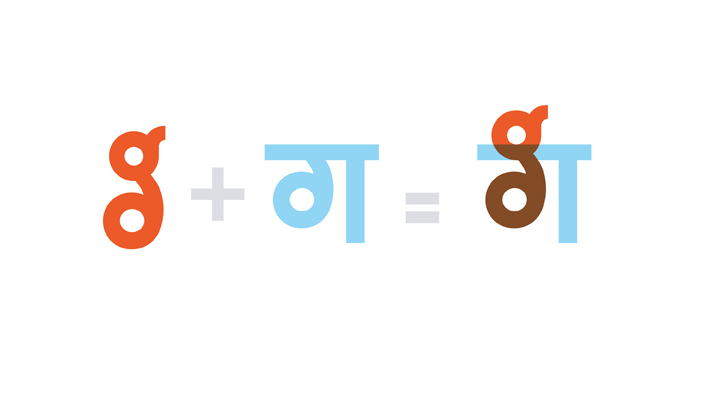 The Hinglish quick-flipbook
You can buy select Hinglish merchandise on
kultureshop.in
(worldwide shipping)
Coasters and Mugs
Featured in the Triennale Design Museum, Milan :
India Designscape, Dec 2012 - Feb 2013
Published in 100% YATRA, an Indian Art Visual Zine with Kyoorius featuring 12 artists and their interpretation of 'Yatra' (travel).
Published in the
Bi-Scriptual
, a book that documents and discusses sociocultural premises, technical requirements and practical considerations concerning multiscript design and typography.
It provides a thorough overview of the various possibilities for the booming field of multiscript design to foster international communication.
Writing systems are described by specialists in the field and illustrated by work examples from international designers and studios.
Licenced to Signal - the instant messaging service - to promote inclusion and their safety feature. In partnership with
Kulture Shop︎︎︎



Licenced to Microsoft and Hyatt Andaz for their space design, customer relationship and marketing promotions.

Press
Hindustan Times, Business Standard, The Economist,
Campaign India, The Times of India : 15th July 2012
Indian Express Eye
Verve Magazine

Postcards for sale on Wemakelove.in - 2013


Talks

TEDx, Mumbai 2016 : Classrooms, Bagpackers and a Revolution
• ISDI Parsons School of Design and Innovation 2020 : There's a Hack for Cultivating Intuitive Intelligence
• Reliance Foundation Hospitals and Research Centre at SORC, Festival
of Orthopedics, 2019 :
The Anatomy of Intuition
• TEDx Unplugged, Mumbai 2019 :
The Trick to Cultivating Eureka Moments in your Career.
• Symbiosis University, as Chief Guest, Pune 2017
• Startup Chile, Santiago 2015
• Creative Beta Mornings, Mumbai 2013

I work with

Organisations and individuals who seek to create positive change and impact on scale through lateral thinking, innovation and design.
While creating enlightening, engaging and entertaining work.
And with those who believe in revolutionising and in shaping new cultural landscapes of society.



Other things I love
User Experience Design
Installation art
Urban planning
Design for public spaces
Product innovation
Film / cinema / video
XR, VR, AR
Behavioural Design
Circular economy
Oceans / environment
Scuba diving
Swimming with the whales in the wild
Pole Fitness and gymnastics
Bagpacking
World Cinema
The confluence of science and spirituality