Puma: Corporate Internship Experience
Run by Immrse / 2020
Estimatedly 70% of students are confused about their career choices, and one can only do a limited number internships during their high-school or college years. Moreover, there was no product that bridged the gap between the theoretical and practical aspects of a career. What if students could experience more career options in a real-world scenario? Immrse, an ed-tech company wanted to create content that could serve as internship learnings across multiple career fields. That's where the virtual 'Corporate Internship Experience' was conceptualised.
The content available on other ed-tech platforms was purely theoretical. What about the social-emotional aspect, I asked. Peer pressure from colleagues, understanding proffessional etiquette, developing confidence and so much more. I conceptualised and co-created an interactive, role-playing game that integrated a real-world experience in a certified educational course.
I created a virtual internship experience foundational for the 'Marketing' category and a template extendable across subsequent career categories that would be regularly added. So every summer / winter break, students could prepare to be immersed in a whole new profession.
We began with a 'Marketing Internship' set in a popular shoe company that was going to launch their next big sneaker for women. In a few months, Puma was officially on board.
Since the launch was scheduled with a large student base, part of a chain of universities in Tamil Nadu, South India - where breaking a coconut traditionally marked an auspicious beginning, this experience was digitised for a little play and engagement.
The whole experience was divided into 15 episodes. Nudges, choices beetween formal, informal and semi-formal ways of communication and socio-cultural aspects of a workplace were integrated through the 4 week program.
The gamified episodes compute a 'Cred Score' that a student can see details of in their profile section.



Friendly navigation and settings


A psychometric test at the end helped appraise an in-depth assesment report shared with the student.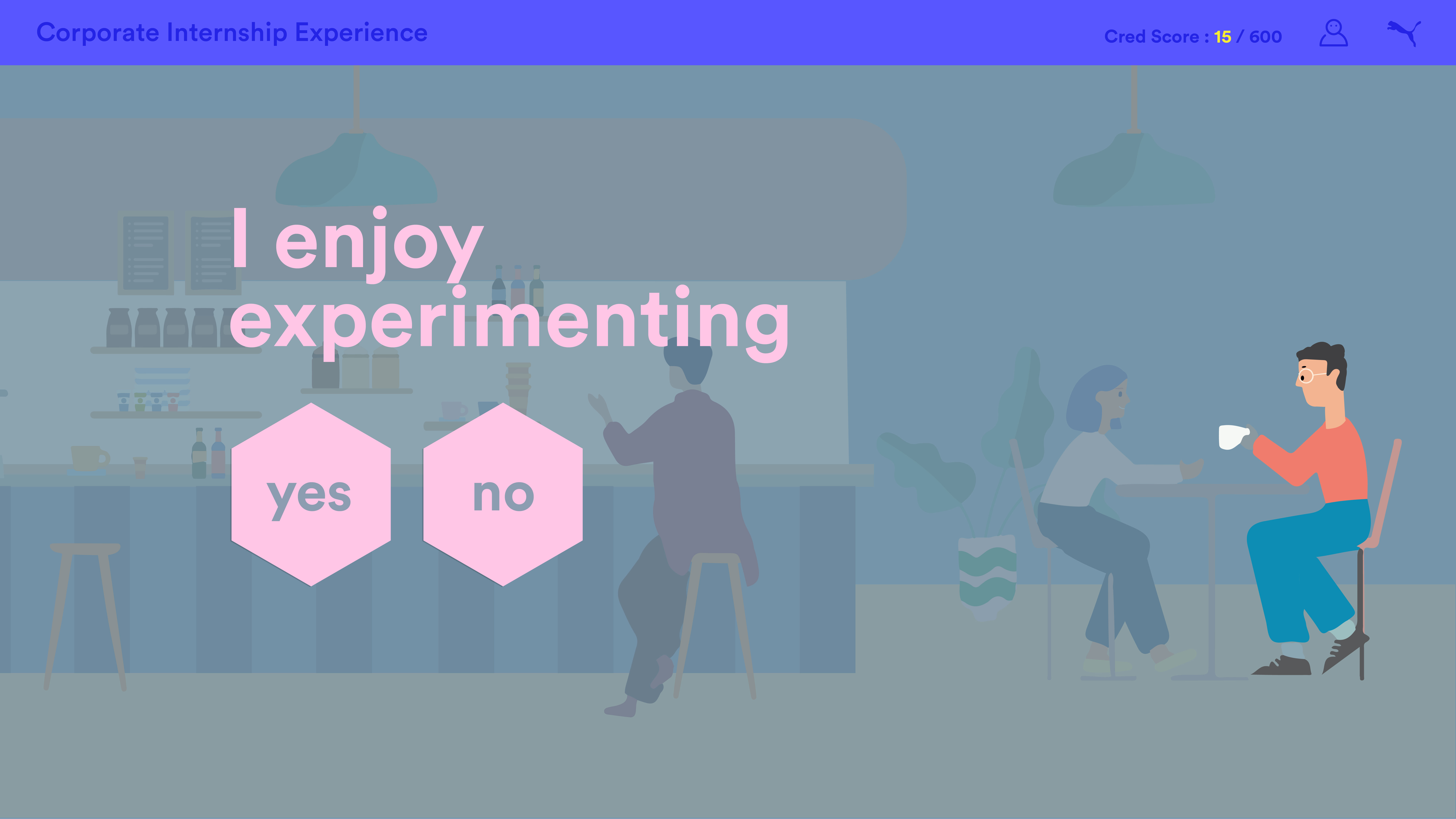 Talks

TEDx, Mumbai 2016 : Classrooms, Bagpackers and a Revolution
• ISDI Parsons School of Design and Innovation 2020 : There's a Hack for Cultivating Intuitive Intelligence
• Reliance Foundation Hospitals and Research Centre at SORC, Festival
of Orthopedics, 2019 :
The Anatomy of Intuition
• TEDx Unplugged, Mumbai 2019 :
The Trick to Cultivating Eureka Moments in your Career.
• Symbiosis University, as Chief Guest, Pune 2017
• Startup Chile, Santiago 2015
• Creative Beta Mornings, Mumbai 2013

I work with

Organisations and individuals who seek to create positive change and impact on scale through lateral thinking, innovation and design.
While creating enlightening, engaging and entertaining work.
And with those who believe in revolutionising and in shaping new cultural landscapes of society.



Other things I love
User Experience Design
Installation art
Urban planning
Design for public spaces
Product innovation
Film / cinema / video
XR, VR, AR
Behavioural Design
Circular economy
Oceans / environment
Scuba diving
Swimming with the whales in the wild
Pole Fitness and gymnastics
Bagpacking
World Cinema
The confluence of science and spirituality